We make people and the planet the priority in all we do. That means as a customer, you can count on products with clean ingredients that are kind to the planet and your conscience.

In 2021, 95% of all plastic made was never recycled. We're here to take plastic out of the equation.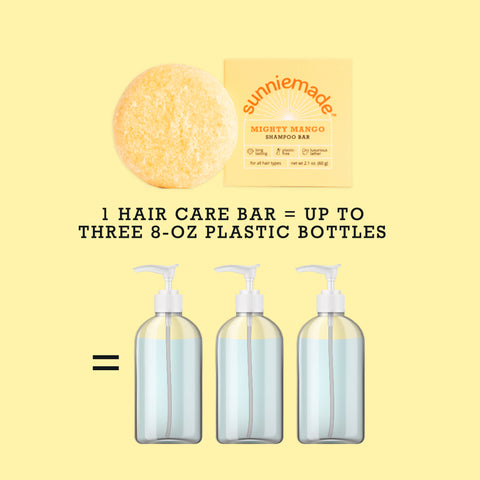 Liquid shampoo, conditioner, and body wash are up to 90% water. We don't water things down.
When you switch to Sunniemade, you (and the planet) don't pay for transporting water. Plastic bottles take 450 years to degrade, causing micro-plastics to enter our waterways, soil, and even our bodies. We prevent plastic from ever entering our waste system and cut the emissions caused by shipping heavy plastic bottles. And, our long-lasting bars dispense only what you need – no plastic pumps sending suds down the drain.
The last time the FDA passed regulations for the ingredients used in personal care products was in 1938. We're setting our own standard.
Plant-Powered
Sunniemade bars come with all-natural, plant-based oils packed with vitamins and antioxidants that nourish your skin and hair.

No Preservatives Necessary
Added water means added preservatives. Our concentrated bars come with all the effective, nourishing ingredients you need — and nothing you don't.
We're not just hoping for a better future. We're building it.