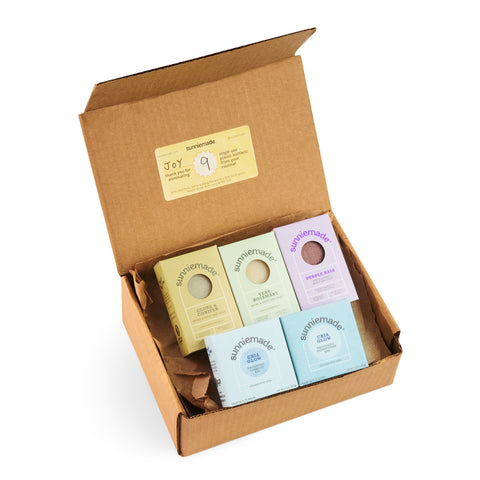 7 sustainable and indulgent holiday gift ideas
This holiday season, we're here to help you shift from materialism to mindfulness with these eco-friendly gifts for every personality and preference. Read on for 7 gift ideas for everyone on your list!
For the self-care lover
This set is perfect for the the busy mom, hard-working high-performer, or introvert ready for a recharge. Gift them with everything they need to transform their routine into a nourishing floral wind-down ritual. Soothing botanical scents and calming colors cultivate the "me-time" your self-care lover will cherish. Complete with our super bloom strengthening shampoo and conditioner bars, purple rain exfoliating body bar soap, soap saver bag, and the teak zig-zag holders that keep each bar high and dry, this set covers comprehensive plant-powered hair and body care.
For the naturalist
We all have that friend that's on a mission to go all-natural, all-the-time, without sacrificing efficacy. This set is for them! With sunny scents like main squeeze and mighty mango, this set includes everything they need for a natural citrus self-care ritual. Complete with our mighty mango moisturizing shampoo and conditioner bars, main squeeze moisturizing hand & body bar soap, soap saver bag and the teak zig zag holders that keep each bar high and dry, they'll love the natural look and plant-powered impact of these hair and body goodies.
For the hard-to-shop-for-friend
Does your loved one always seem to surprise you with unexpected preferences and changing fixations? Then this set is for them. Satisfy their flair for novelty and cover your bases by gifting them the full spectrum of bar soap scents and formulations. This 5-pack comes in a branded package designed for discovery, so your recipient will delight in exploring the range of plant-powered bars.
For your eco-conscious bestie
Who doesn't love looking good *and* doing good? This set cleanses and softens hair — without the plastic waste. Our chia glow hair care bars work like a dream for all hair types, thanks to the super sudsy, smoothing shampoo bar and creamy, cushiony conditioner bar. Gift them everything they need to get started with the chia glow duo and holders designed to keep them high and dry.
For the globetrotter
Gift your jet-setting adventurer or weekday road-warrior this travel-friendly set! We've included everything they'll need to take their mango hair care routine on the road. Our mighty mango bars fit perfectly into the plastic-free travel case designed keep them high and dry on the fly.
For the minimalist
This set is perfect for your pal that likes to keep it simple and start with the basics. This bestselling soothing and creamy bar pairs perfectly with the waterfall soap dish designed to keep your bar high and dry and your counter clean and contemporary. Together, they'll make their new routine easy and indulgent.
Very Rosemary Natural Bar Soap Starter Kit
Regular price

$16.50
Sale price

$18.50
View product details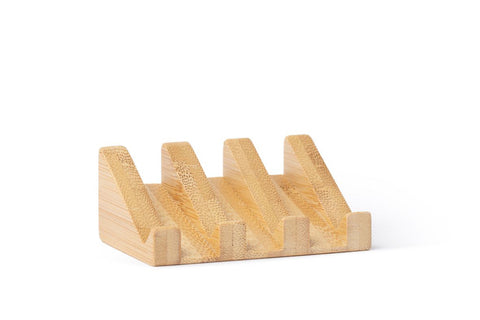 For anyone on your list
Whether you want to leave it up to them, or you simply ran out of time to place an order, we've got you covered with this gift card! Spread the love (and suds) to your friends and fam and support a clean planet and a woman-owned small business. 1% of your purchase is donated to reforestation efforts through 1% for the Planet. Select your preferred price point ranging from $10 - $100 and simply print or email the card details to them.
Still not sure what to get them?
Ask your loved one to take our simple and easy routine builder quiz! We'll curate recommendations based on their unique hair and skin type and preferences.
Send them this!